Group Healing & Channeling 3hrs I Asil Toksal @UrbanTribe
October 11, 2018 @ 8:30 am

-

12:00 pm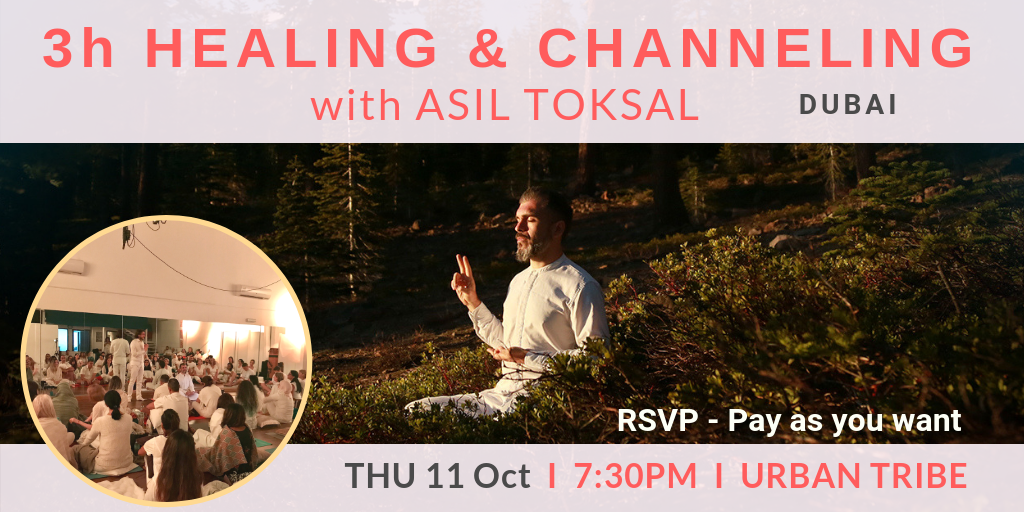 Welcome to 3hours group Channeling & Healing with Asil Toksal – this is a privilege to gather all at Urban Tribe, the more the merrier to create a giant vortex of light!

This is an invitation to an unique experience of deep healing and channeled wisdom. If this resonates with you, please join with your open heart and mind (this is not a meditation).
It is a 3-4 hour immersion into high-frequency presence. During these sessions, Asil Toksal opens up to channel high-vibrational energy and entities, such as Angel Emmanuel, Archangels Raphael, Michael or Zadkiel.
 You may experience deep peace within, connections to other realms, healing, transmission and/or downloads of energy, psychic surgery may also happen if relevant. You will also have the opportunity to ask direct questions to the guides.
We are calling for your readiness and excitement to co-create this high session in an unified elevated field of harmony and Love. Please read carefully the information below for your self-preparation & Booking.
What to expect in a session?: https://asiltoksal.com/experience/what-is-the-session-like/
About Asil?: https://asiltoksal.com/about/about-asil/

REGISTER HERE 
——————–
First come first serve basis
RSVP = priority
TO BRING
————
– Wear WHITE comfortable clothes, you will be seating
– Yoga Mat
– Pillow
– Blanket
– Water & tissues 


SELF-PREPARATION
————————
– Set your heart intentions
– Please arrive on time or before time. We start at 7:30pm. Make sure your schedule is free up till 11:00pm.
– It is recommended to have a light diet during the day. No alcohol.
– And to rest enough the previous night. 
– Drink a lot of Water before, during and after.


CONTRIBUTION  /  ENERGY EXCHANGE
———————————————–
We lovingly suggest an offering between 150dhs and 250dhs, or in the form of whatever is available to you in that moment.
> A box/basket will be placed at the entrance.
We are a community that support each other and we are honoring the pillars of light that are elevating the vibrational frequency of our individual self, the Land and the planetary collective. Understanding the energy flow and law of resonance, it is aligning with the best version of ourselves opening the flow for abundance, support, harmony and unity.

LOCATION I PARKING
————————-
Please use your GPS to enter URBAN TRIBE EVENTS (Dubai Drums)
Google Pin:  https://goo.gl/maps/9df2nzvdUgH2
It is in an industrial area, make sure you arrive before time to find parking.


Thank you for taking the time to read this email, and for choosing to dedicate yourself to this process of awakening and grounding your spiritual light into your beautiful physical body. We look forward to sharing this space and this deep work with you. We are honoured to go on this journey within.


We serve as a bridge to higher dimensions to provide the self-mastery guidance, wisdom and teaching required to embody your divine potential. We are looking forward to welcoming and co-creating with your energy.
With Gratitude, Love, Light and high Golden Diamond Light to your Heart.
♡Asil Toksal
♡Mathilde Lumiere & YogiGeorge
♡Nada Harb



ASCENSION PLATFORMS
A High Spiritual Educational Channel
Connect, Join, Awaken and Arise
https://www.AscensionPlatforms.com 

CONTACT: connect@ascensionplatforms.com
Mathilde Lumiere 050 910 5688
YogiGeorge 050 681 53 77