Are you ready to join a journey of personal and consciousness evolution, to discover greater aspects of yourself as you begin to realize the divine being that you are?
Discover alignment. (of your four bodies)
Discover connection. (to higher consciousness and to Earth)
Discover your path. (toward self realization)
Discovery Series: Aligning Self & Earth is an entirely self-paced course with eight modules designed to guide you towards a deeper understanding of the self-realization journey – the journey towards becoming the highest potential version of yourself – and to help you reach states of presence, silence and alignment as you connect with your true essence.
Receive foundational transmissions, channeled wisdom, powerful energetic adjustments as well as daily meditations and exercises to help activate your true essence and your innate ability to self-realize during your human experience.
Discovery Series aims to help you:
Understand the meaning and purpose of the human experience and the self-realization journey
Meet and align your four bodies
Recall and reactivate your innate connection to all aspects of yourself, humanity's collective consciousness and all of existence
Remember your innate connection to the Earth and her consciousness
Learn to align the four aspects of your being, to improve your energetic alignment, and to embody your connection with your true essence, higher consciousness and the consciousness of the Earth.
As your vessel clears, the light through you shines even brighter. Your love becomes visceral. You become the pillar of light that you have been since the beginning. You return to a level of purity, to a level of innocence, to a level of presence, similar to the presence of a newborn, discovering [for the] first time the human experience — the same level of curiosity, the same level of awe, the same level of trust in this creation, in the ones that hold you, in the ones that care for you.
START YOUR DISCOVERY NOW!
This course is designed to introduce you to the foundational concepts for the self-realization journey, help you to understand your physical, emotional, mental and energetic bodies, and your innate connection to both humanity's collective consciousness as well as to Earth and her consciousness.
WHAT TO EXPECT?
Learn to see reality and yourself through the lens of energy
Explore how higher consciousness is available to guide you and assist you on your journey towards self-realization
Identify your innate connection to our Earth and recognize her as a conscious, alive being
Gain a deeper understanding of yourself, of life itself, and of consciousness
Daily meditations and practices to help you establish a strong foundation
Experience deep meditative states
Receive energetic alignments delivered by the channeled guides to create a strong foundation for the being you are becoming
Establish a stronger framework for your understanding of the human experience, including improved personal practices
Lay the groundwork for your self-realization journey.
Explore a safe and dedicated community space (on a digital platform as well as live group calls) for discussions and sharing experiences with like-minded peers on the journey.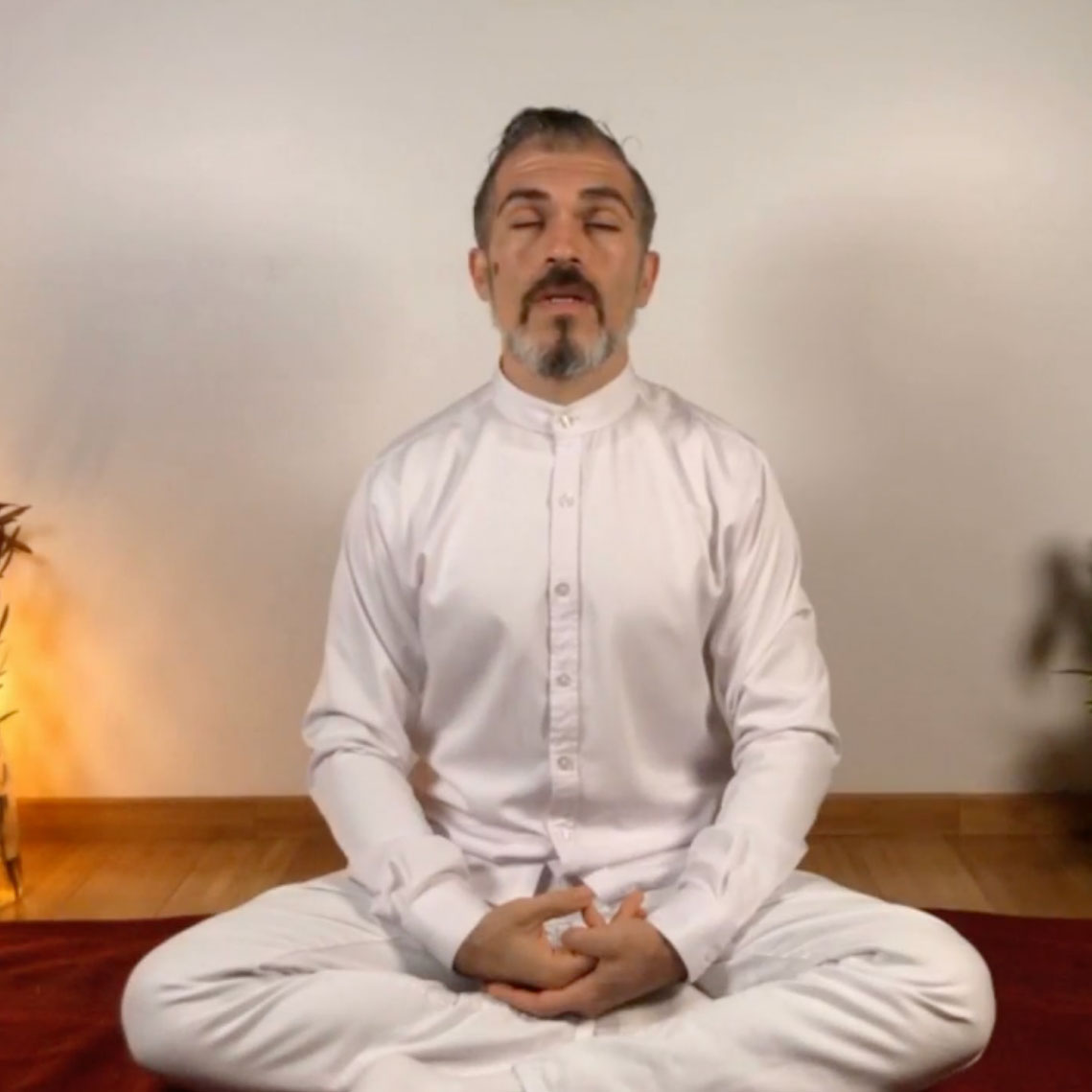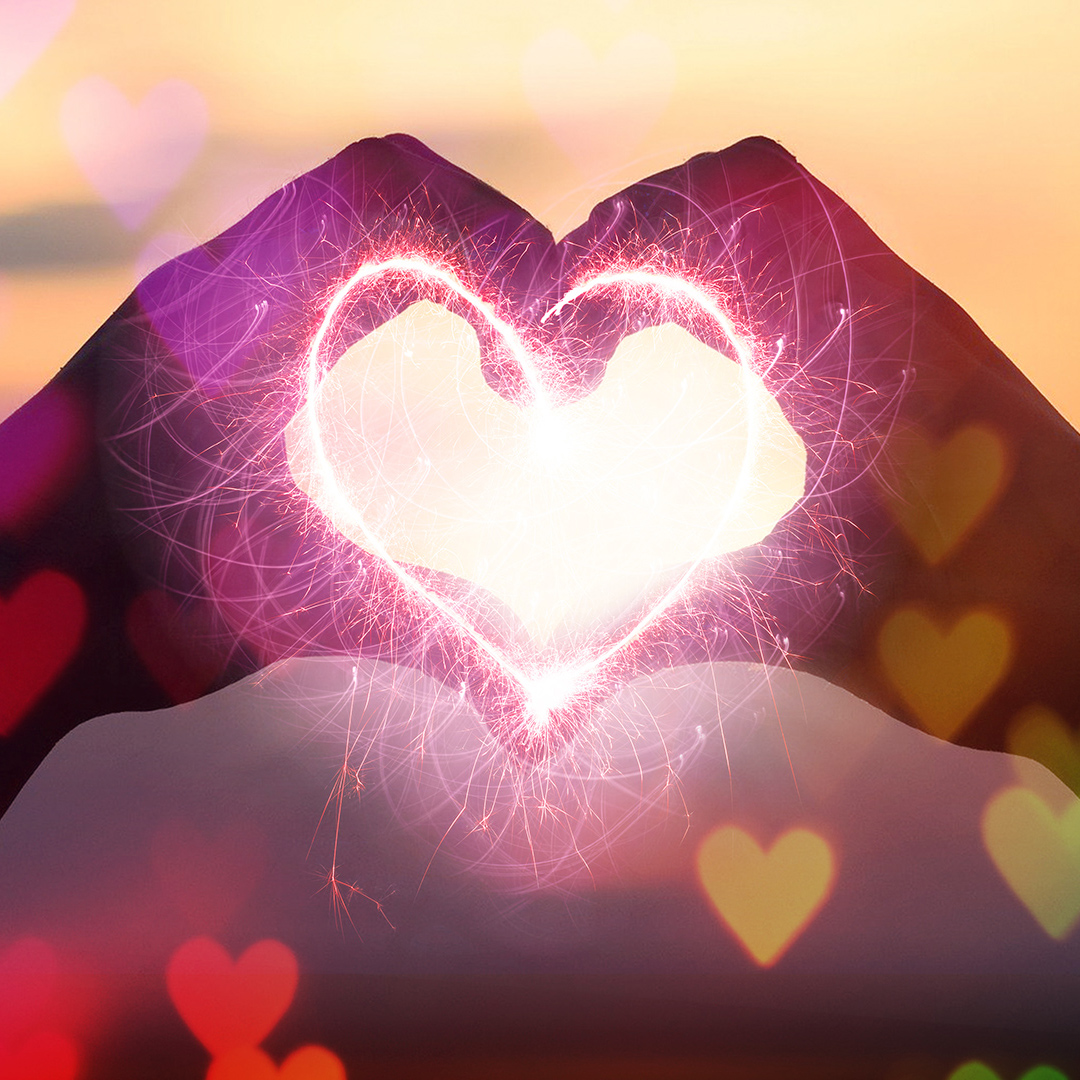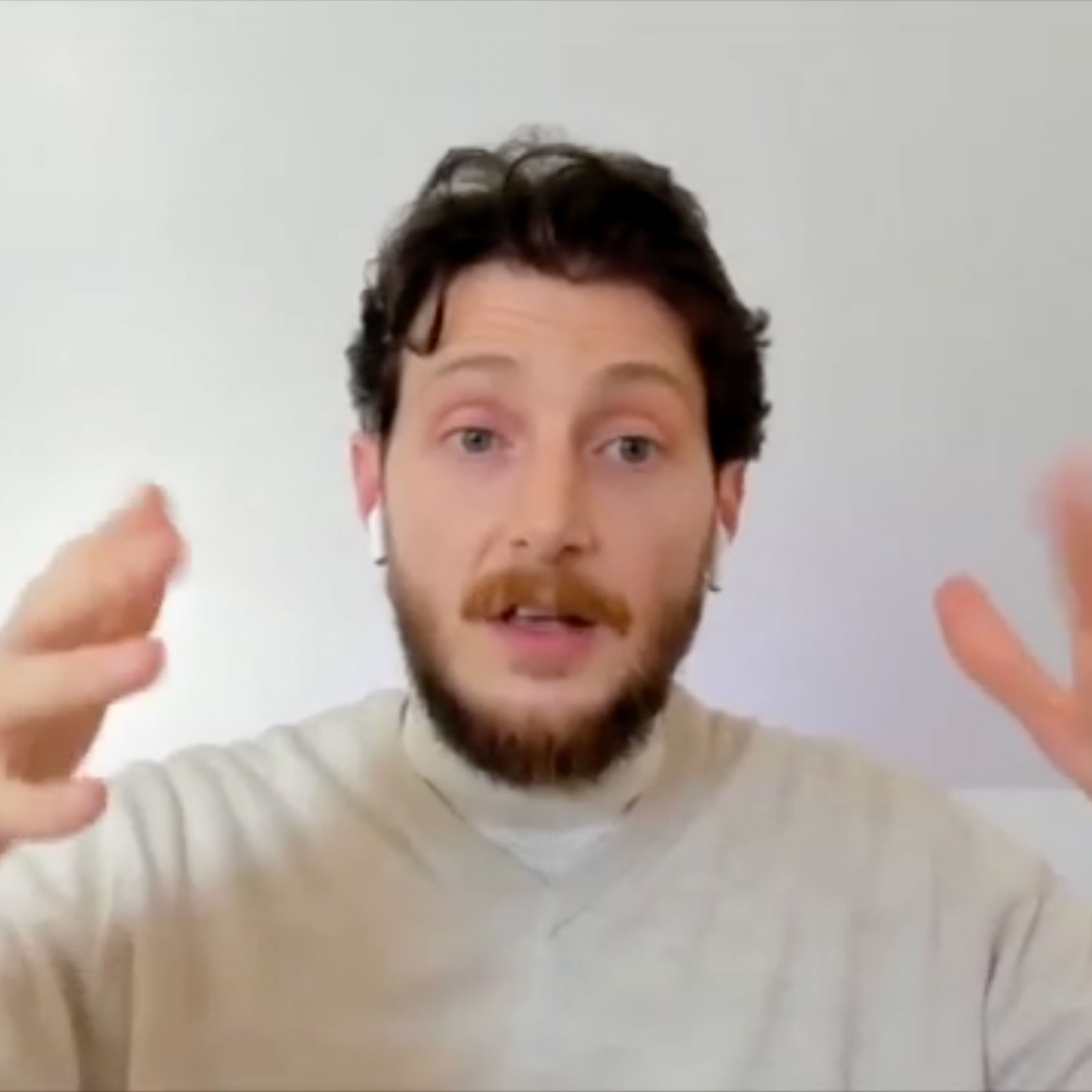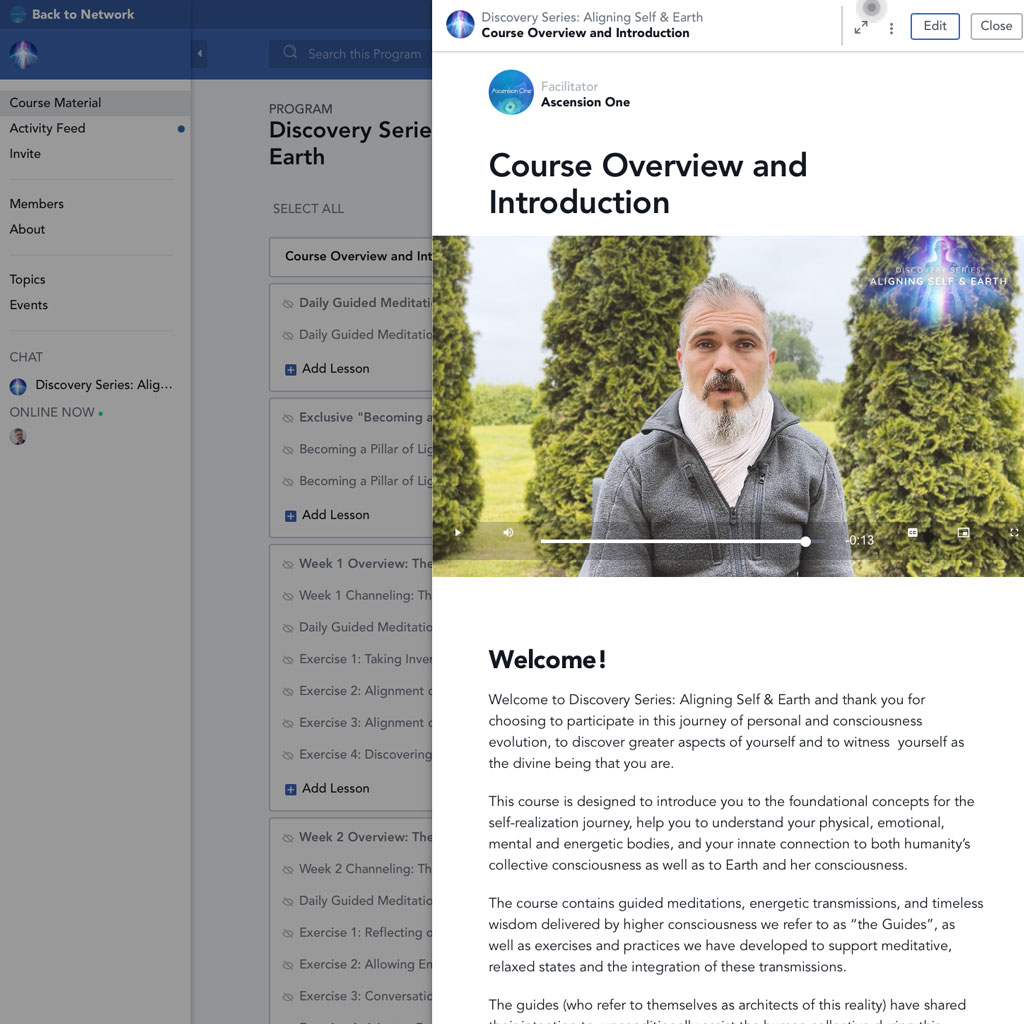 COURSE DETAILS
Discovery Series was designed as an entirely self-paced course, with an array of opportunities provided to deepen your connection to yourself, to higher consciousness and to Earth.
Access to 8 transmissions, daily meditations, integration practices and exercises, as well as a global community of like-minded seekers.
In addition to online support, twice monthly we offer online community video calls where we discuss and explore our experiences as well as receive guidance and support from Ascension One.
Within our digital course platform, we host everything from the transmissions to the course materials, including guided channel meditations for daily practice, suggested exercises, journal prompts and more.
The online platform was designed to create a safe and dedicated community space for participants to continue conversations and connect with one another and facilitators.
Join us as we learn and deepen our capacities during this critical moment in humanity's' collective awakening.
You can begin your self-paced learning journey as soon as the course opens on July 4, 9 am Pacific time. Enroll now.
MODULE 1

Silence, Presence & Alignment

MODULE 2

The Alignment of the Physical Body

MODULE 3

The Opening of the Heart

MODULE 4

The Awakening of the Mind

MODULE 5

The Activation of the Energy Body

MODULE 6

The Self-Realization Journey

MODULE 7

Discovering Earth as a Conscious Being

MODULE 8

Integration
TESTIMONIALS about coursework offered
"I absolutely love the course! It has so much depth and is extremely well done. I can see myself revisiting it frequently!"
"I feel that all parts of my being have been reacquainted with each other. I feel ready to continue on my journey of evolution and feel a connection to myself, to higher consciousness, to community, and to the earth."
"The course was a deep dive into the transmission of Asil. It unlocked stuck places in me and allowed them to move again. This happened on physical, emotional, mental, and spiritual-energetic levels. I highly recommend this course for those interested in devoting themselves to the path of becoming a 'Pillar of Light' in the world. It was just what I've been looking for my whole adult life."
"I absolutely enjoyed [the course] and was extremely pleased to be connected worldwide with like-minded people who care about the planet and consciousness... The course is full of pure love and compassion with an opportunity to grow and heal physically, emotionally, mentally, and spiritually."
"Empowering. Each and every module I was working with unfolds a deeper level of understanding. My sense of alignment and well-being increased."
This process of awakening is inevitable; it is and it will be part of your life until the very end. You may choose to suppress, resist or ignore the aspects of yourself that are requesting to be listened to, yet this calling of the inner voices will only become louder. A part of you will require to surrender, to slow down and to stop, to listen deeply, to find space and time for silence and balance; a time for contemplation.
COST & REGISTRATION
You can choose what you are able and willing to pay, we do ask for a minimum contribution of $88. Please use the buttons below to select a suggested donation and sign up for the program. Any contribution above $88 will be considered a donation.
What you will receive:
8 pre-recorded transmissions by the guides
Daily Meditations and additional exercises to help you deepen your practice
Journaling exercises along with the transmissions
Access to an online platform to share, exchange and connect with others in the course and facilitators
Deep transformational experiences through the container established
Continued energetic support by the guides while being within the course
A safe and loving environment to explore the depths of your physical, emotional, mental and energetic bodies.
Ongoing integration content to help anchor this work into real-world application
FREQUENTLY ASKED QUESTIONS
Your Host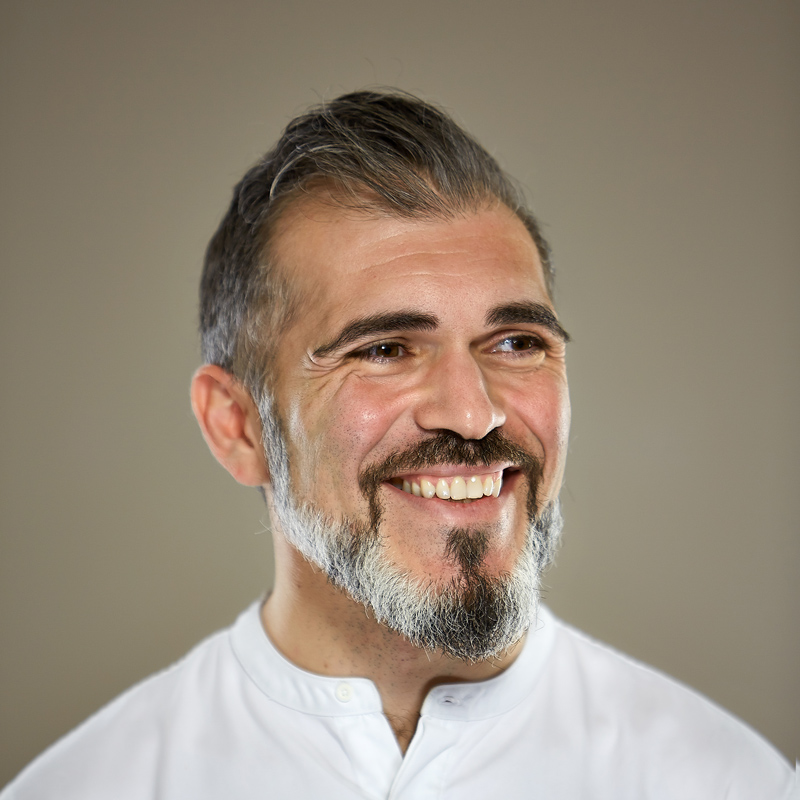 Asil is an Austrian-born channel. His work includes group energy alignment sessions and the channeling of celestial and angelic guides, as well as working on the energetic alignment of sacred sites and Earth energies. The goal of both aspects of this work is to assist in the evolution of consciousness in humanity. He has traveled widely to do this work, throughout the Americas, Europe, Asia, and the Middle East.
For the past 20 years, Asil has been deeply committed to a spiritual path while also training in a variety of different energy healing modalities. He has worked with many masters and received initiations by lineage holders of various traditions in South America, North America, and China. In his earlier years he also served as a CEO and corporate executive in software, marketing, and communications.
Seven years ago, during a moment of deep spiritual experience, Asil connected for the first time to the channeled angelic guides and energies that he works with today. He was offered the opportunity to work closely with these guides, but he was asked to make the choice to let go of the prior traditions, rituals, and healing methods he had learned.
After making this choice, the guides assisted him through an intensive spiritual and energetic transformation process. This created a connection that allowed him to begin to receive and transmit energy, as well as spoken wisdom from these angelic and celestial realms. This connection forms the basis of the work of Ascension One.
COST & REGISTRATION
You can choose what you are able and willing to pay, we do ask for a minimum contribution of $88. Please use the buttons below to select a suggested donation and sign up for the program. Any contribution above $88 will be considered a donation.
DISCOVERY SERIES: ALIGNING SELF & EARTH
Ascension One is committed to protecting and respecting your privacy, and we'll only use your personal information to administer your account and to provide the products and services you requested from us. From time to time, we would like to contact you about our products and services, as well as other content that may be of interest to you.
You can unsubscribe from these communications at any time. For more information on our privacy practices, and how we are committed to protecting and respecting your privacy, please review our Privacy Policy.
By clicking submit, you consent to allow Ascension One to store and process the personal information submitted above to provide you the content requested.